In the early stages of UFC, there were no weight divisions and basically, everybody could compete. Many of our top 10 most massive MMA fighters come from the early era of this wonderful sport.
Stepping into the Octagon means facing all types of fighters. Someone is fat, another one is tall, while some fighters are simply the combination of height and mass. Some UFC fighters could parry Shaquille O'Neal under the basket, while other ones were stronger than Yokozuna.
As the years went by, we had an opportunity to see the most unordinary fighters and fighting styles from the whole world. There were cardio machines, takedown specialists, amazing wrestlers, superb strikers, and trash-talking legends. MMA has become a symbol of fun, entertainment, and quality fighting. Giants could be seen in many promotions. The choice of the top 10 most massive MMA fighters isn't an easy task at all – there are many candidates available.
Big belly smashers and sky scraping distance fighters will be remembered forever. There were also many fat fighters who were heavily beaten inside the octagon. Watching heavy people putting 4 oz gloves might be very interesting. Here is the list of top 10 most massive fighters in the history of MMA.
10. Antonio "Bigfoot" Silva
Antonio "Bigfoot" Silva is the former UFC 265-pound former Heavyweight Title runner-up. He was also a Cage Rage Heavyweight champion two times and Elite XC Heavyweight champion. He is 6 foot and 4 inches tall, and he weighs around 280 lbs when he doesn't compete. The list of top 10 most massive MMA fighters would be incomplete without Bigfoot!
Antonio Silva had pretty much successful career, with the score of 19-12-1. He hadn't dropped his gloves completely yet – he competes in Kickboxing. His size is a great advantage but he is also a black belt in BJJ, Shotokan Karate, and Judo. Taking down so tall and strong fighter might be a real nightmare!
He was fighting for the American Top Team and Team Nogueira. However, he hasn't done well in the UFC, winning only 3 fights and getting finished in seven of them, with one majority draw versus Mark Hunt, where Silva was tested positive for elevated levels of testosterone.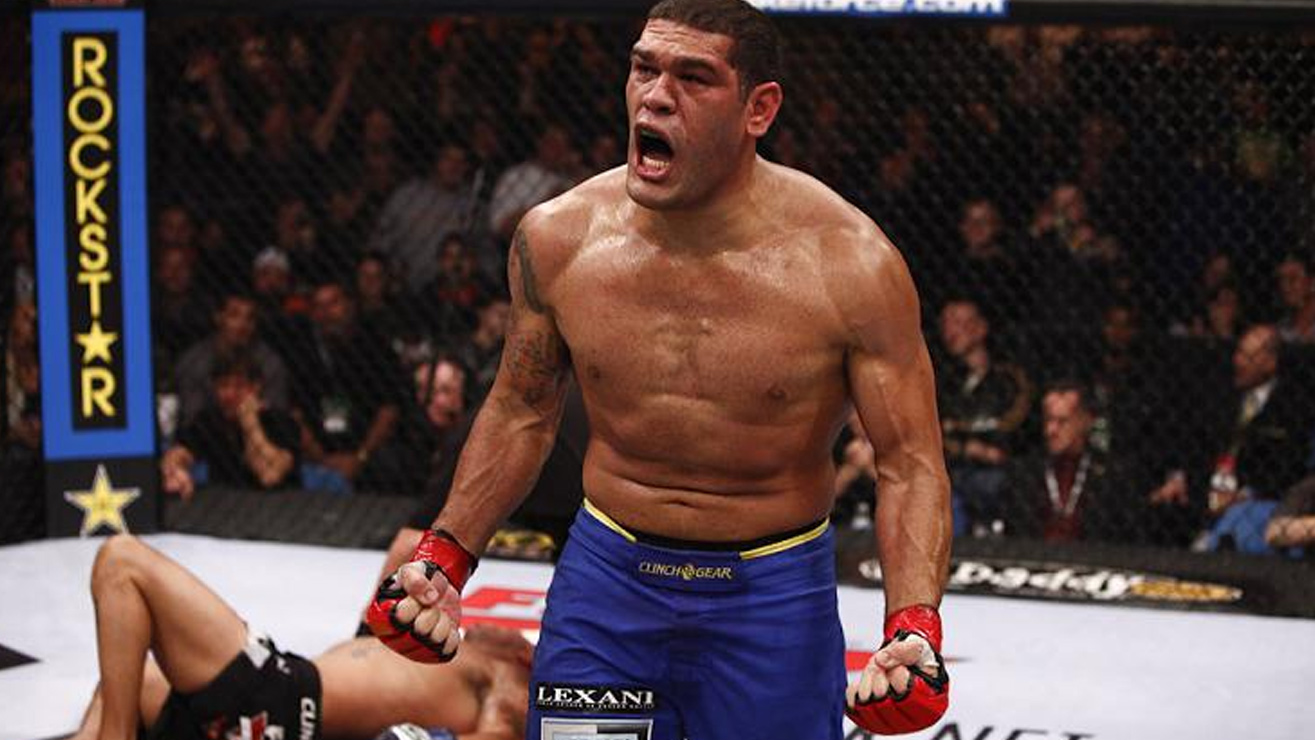 He was defeated in the UFC Heavyweight title shot from Cain Velasquez. Bigfoot defeated Travis Browne and Alistair Overeem but all other notable fighters finished him – Mark Hunt, Frank Mir, Stefan Struve, Roy Nelson… In the smaller promotions, he was also defeated by Daniel Cormier and Fabricio Werdum. However, Bigfoot shocked the world when he defeated Fedor Emelianenko via TKO.
9. Mariusz Pudzianowski
Mariusz is definitively in the second place of the most massive MMA fighters after Bob Sapp when it comes to superb muscles and physical look. A former Polish strongman is only 6 foot and 1 inch tall, but he weighs an outstanding 320 pounds, and his body is a pure muscle!
He spent 19 months in a prison for attacking local mafia boss. Mariusz has a company, Pudzianowski Transport, a school for bodyguards, and various real estates. He claims that he fights because he likes MMA. Mariusz won 42 of his 59 Strongman competitions, and his nickname "Dominator" is more than deserved. He is a legend of Super Heavyweight.
Pudzianowski was defeated by notable names like Sean McCorkle, James Thompson, and Tym Silvia. However, he holds victories over two competitors from the list – Erik Esch and Bob Sapp. Mariusz is currently 41 years old, and he is not planning to drop his gloves soon. Currently, he competes in KSW (Konfrontacja Sztuk Walki), a mixed martial arts promotion based in Poland.
8. Alexandru Lungu
Alexandru Lungu is a former multiple Romanian Judo champion and the winner of many medals for Romania in international competitions. He is only 6 feet tall but he weighs an impressive 364 lbs and competes in Super Heavyweight division.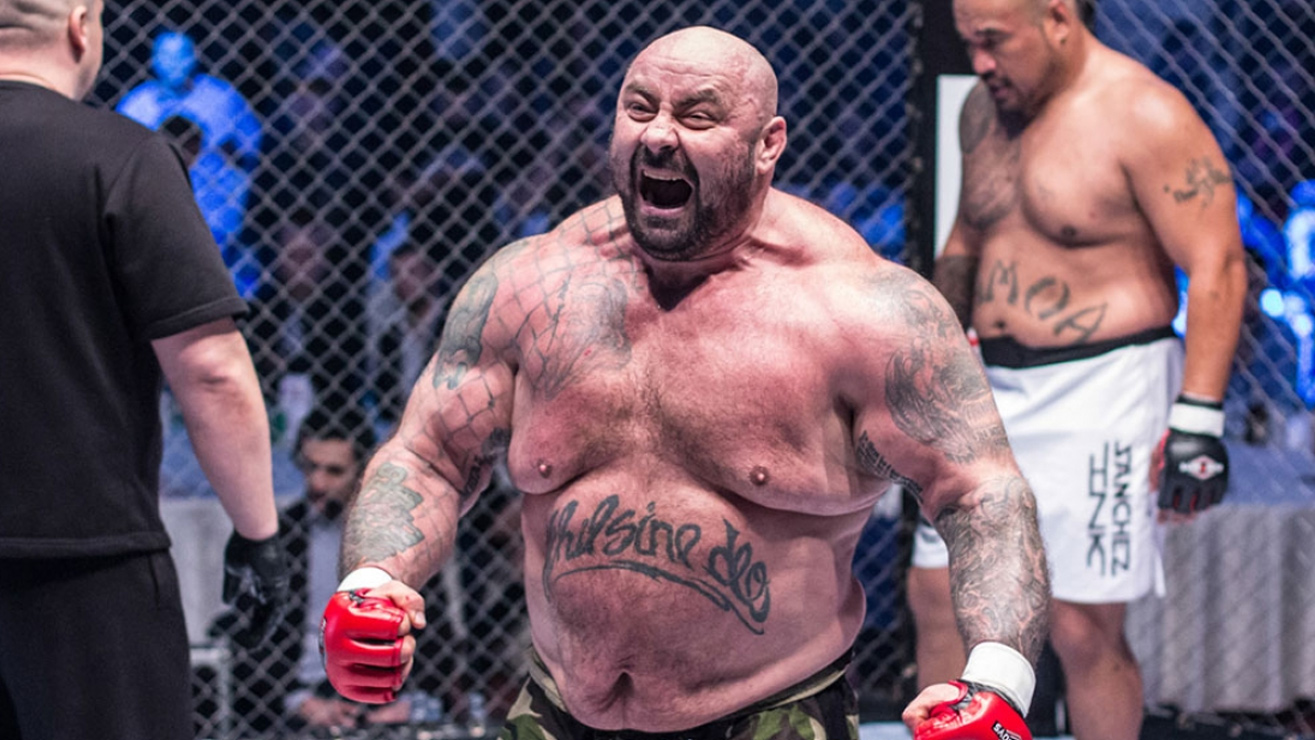 He fought in PRIDE and Cage Rage but today he mostly competes in promotions inside Romania. His current score is 16-4. He is also a kickboxing competitor with the score of 5-2. Lungu was defeated of James Thompson but he won Bob Sapp in kickboxing via left hook KO.
Alexandru Lungu deserved his place on the list of top 10 most massive MMA fighters. However, he has one big problem – cardio. He lost almost all the fights which lasted more than three minutes. Alexandru Lungu is currently 43 years old but he isn't thinking of retirement yet.
7. Hong Man Choi
Hong Man Choi, also known as "The Korean Colossus", is the most massive Asian MMA fighter of all time. He is 7 foot 2 inches tall, and he weighs between 310 and 365 lbs. Choi is a kickboxer but he is also good on the ground – it is very difficult to escape with Choi on the top of you.
When you combine height and weight, Hong Man Choi is ranked very high on the list of top 10 most massive MMA fighters. He shares the first place in height with Giant Silva, and he is in the sixth place when it comes to bodyweight. Choi is the real skyscraper in the ring.
He has an MMA score of 4-5 and currently competes in Road FC promotion. He was defeated by Fedor Emelianenko and Mirko Cro Cop. Hong Man Choi also competes in Kickboxing, where his current score is 12-7.
6. Bob Sapp
Many fans say that Bob Sapp is the biggest faker from the list of top 10 most massive MMA fighters. It is well known how he was losing matches and how he gave signals to his opponents. I mean, you really think a jab can rock someone who weighs 350 lbs? Just remember his match with Dusan Panajotovic in Belgrade, Serbia – the signal was obvious!
Bob Sapp is 6 foot 5 inches tall. He is the most massive MMA fighter when it comes to pure muscles. A former American football player is an example of a perfectly shaped body. However, he has MMA score of 11-20-1. He defeated Alan Karaev, but he lost to Mariusz Pudzianowski from this list.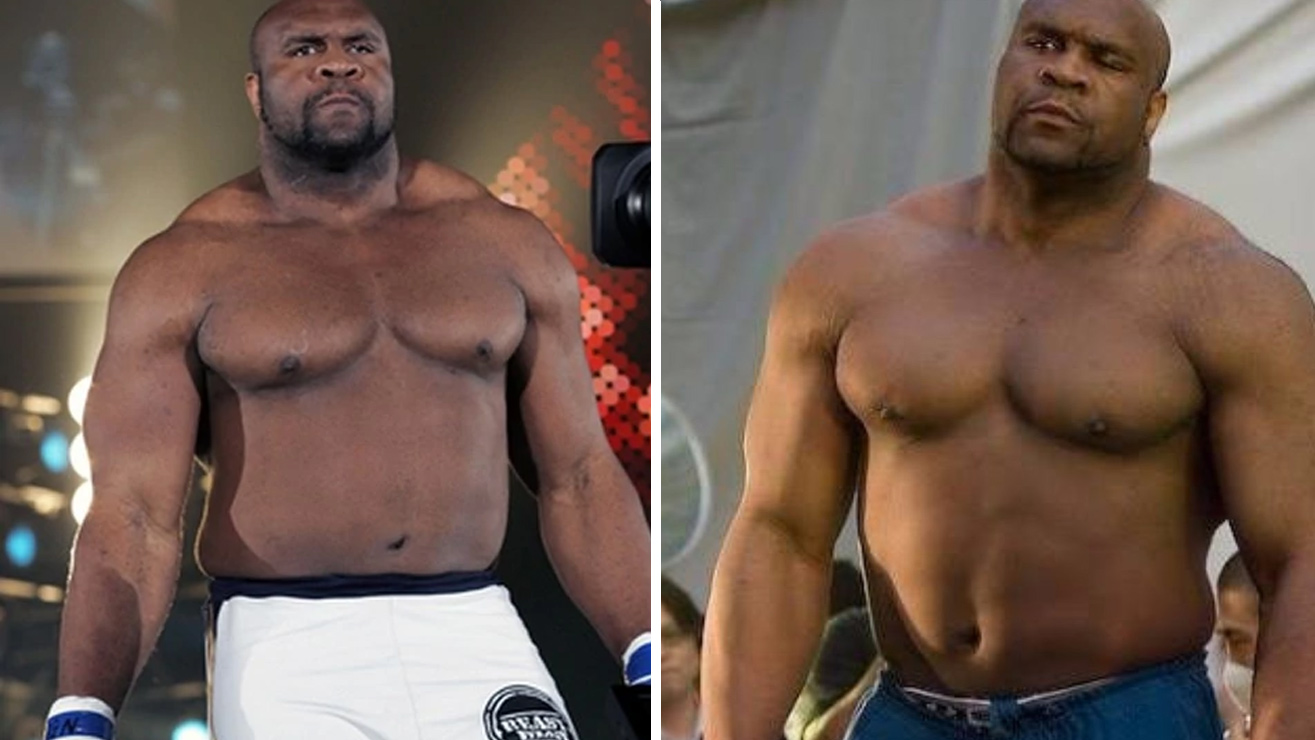 He also competes in Kickboxing, where he has the score of 12-19. Hong Man Choi and Alexandru Lungu defeated him in Kickboxing events. He is also defeated by Mirko Cro Cop, who broke his orbital bone after a left cross.
Bob Sapp has one technique – clinch up with the opponent and punch him out or take him to the ground. He simply goes forward, receives the punches, and his survival is based on a pure luck whether he will be able to take the opponent down or not. He competed in PRIDE, Strikeforce, ONE… Bob Sapp still competes in some smaller promotions. Bob Sapp was beaten more than all the fighters on top 10 most massive MMA fighters all-together!
5. Giant Silva
A former basketball player who turned pro didn't really have much success in MMA world. But on the other hand, his appearance was a spectacle by itself. This giant is 7 foot 2 inches tall, and he weighed 385 lbs. Quite impressive! Giant Silva is the most massive South-American MMA fighter ever.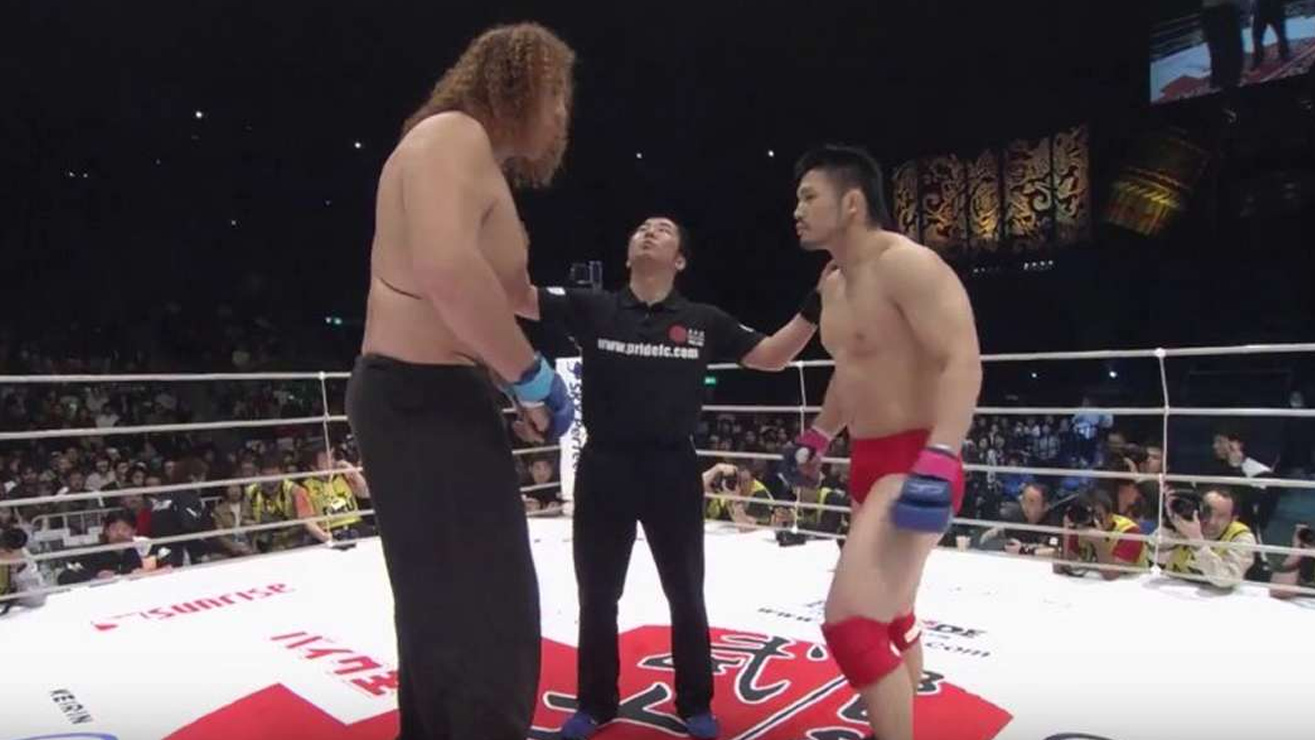 When it is about height, he shares the first place with Stefan Struve in the list of top 10 most massive MMA fighters. He had an MMA record of 2-6 and he competed in PRIDE. He was defeated by notable names like James Thompson and Heath Herring.
Giant Silva is probably the slowest fighter ever in the world of MMA. He started his wrestling career in 1998 and entered the ring in 2003, where he was defeated of Heath Herring via submission. He decided to drop his gloves after a victory over Akebono Taro in 2006. He was a professional wrestler from 2001 to 2008.
4. Stefan Struve
Stefan "The Skyscraper" Struve competes successfully in UFC Heavyweight division and he is the tallest fighter in the history of UFC. Struve is 7 feet tall, and he weighs 265 lbs. Struve is a submission specialist but he also has an excellent striking background from kickboxing and Muay Thai. His reach is 84.5 inches, and he shares the first place by that parameter with Jon Bones Jones.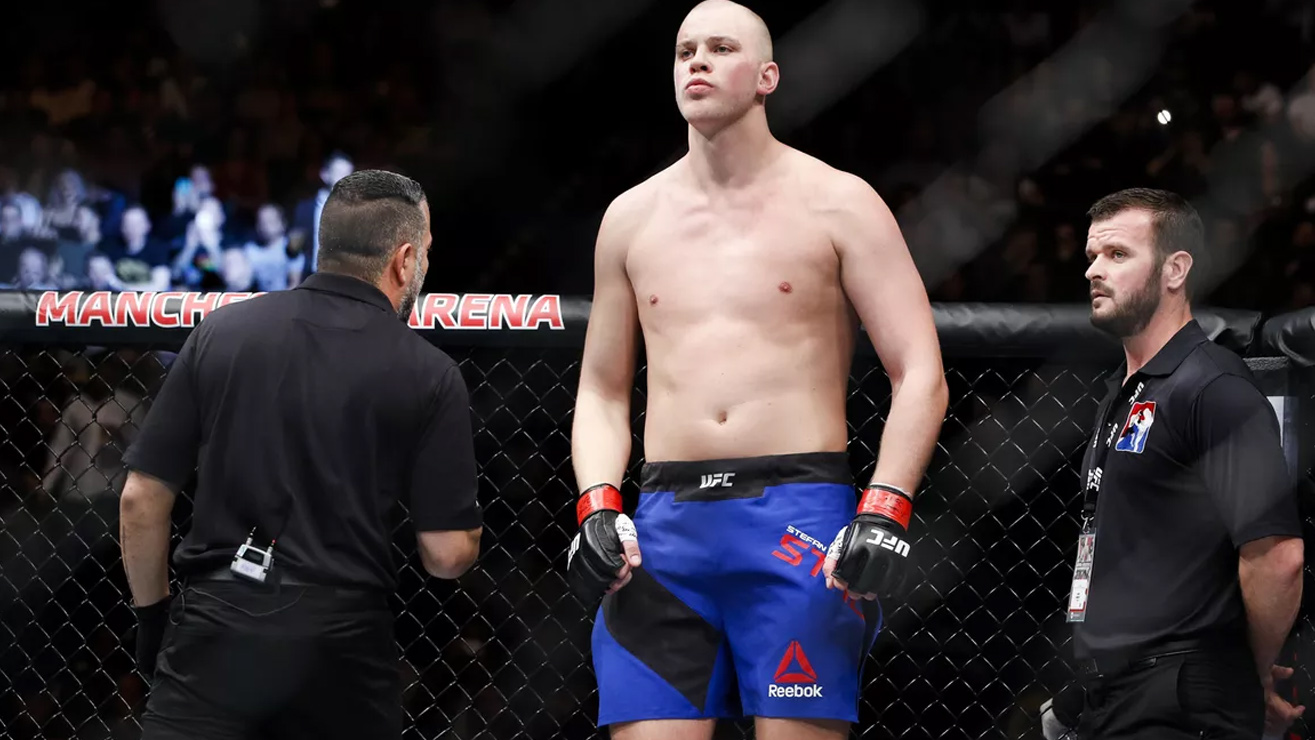 Struve's current MMA score is 28-10, and he is only 30 years old. He had his MMA debut with only 17 years of age, and he has a whole career in front of himself. Struve had a spectacular victory over Pat Barry via triangle armbar. He is defeated by Alistair Overeem, Mark Hunt, and Travis Browne, but "The Skyscraper" is one of the rare fighters who defeated Stipe Miocic, a current UFC Heavyweight champion.
He is a dangerous opponent to anybody who enters the octagon. He has overtaken legendary Semmy Schilt and earned his place in the list of top 10 most massive MMA fighters by becoming the most massive Dutch fighter of all time.
3. Alan Karaev
Alan Karaev is the most massive Russian fighter of all time and the most massive European fighter of all time. He is a Russian sumo wrestler with an impressive career, who was active during the years 2005 and 2006. He fought in some smaller promotions, and he was defeated by Gary Goodridge and Bob Sapp (strange left jab KO). He has an MMA score of 2-3.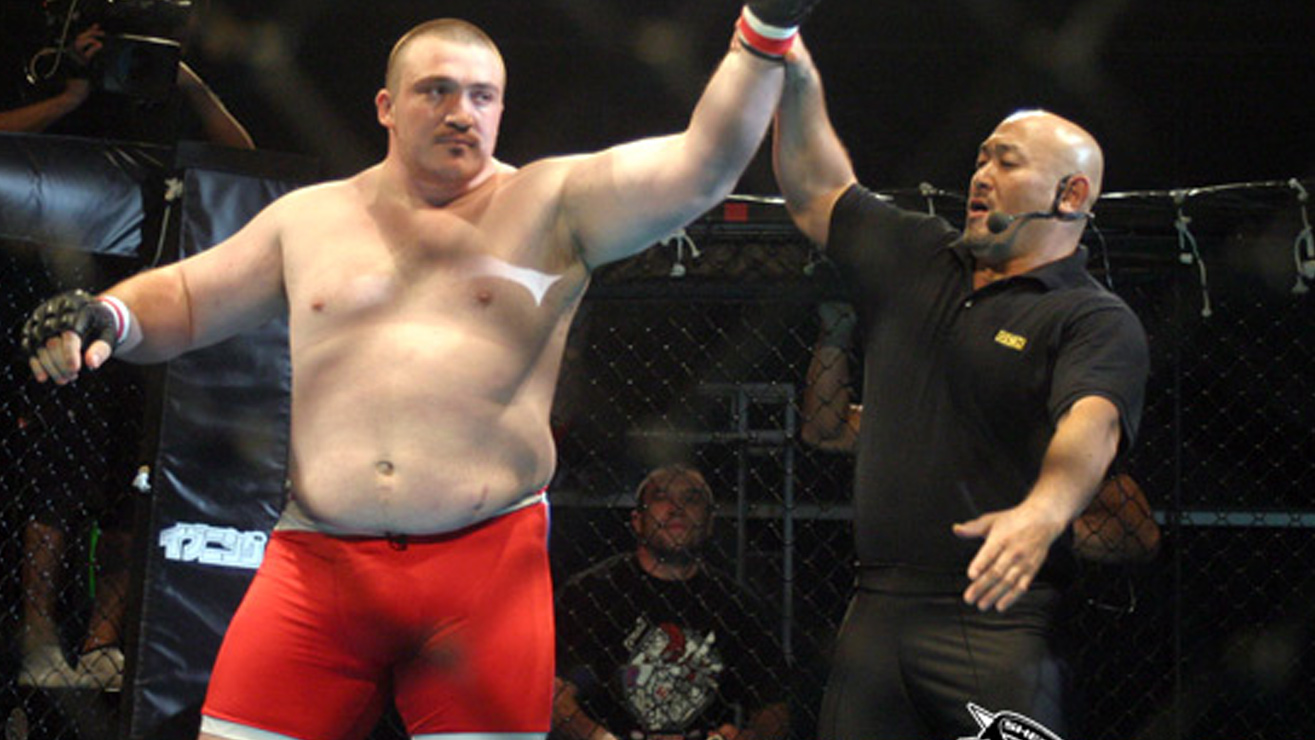 Alan Karaev is 6 foot 7 inches tall and he weighs 403 lbs. His cardio is weak but his punches are not slow, compared to his weight. He was even able to rock Jerome Le Banner via right cross. Karaev is vulnerable to body kicks and hooks but his ground wrestling is excellent. He is one of top 10 most massive MMA fighters who weren't able to build an impressive career.
2. Eric "Butterbean" Esch
Eric Esch has been a very successful boxer before his MMA career. He also competed in Kickboxing. Known for the nickname Butterbean, he is only 5 foot 11 inches tall but he weighs an impressive 425 pounds. He was a former boxing IBA and WAA World Super Heavyweight champion.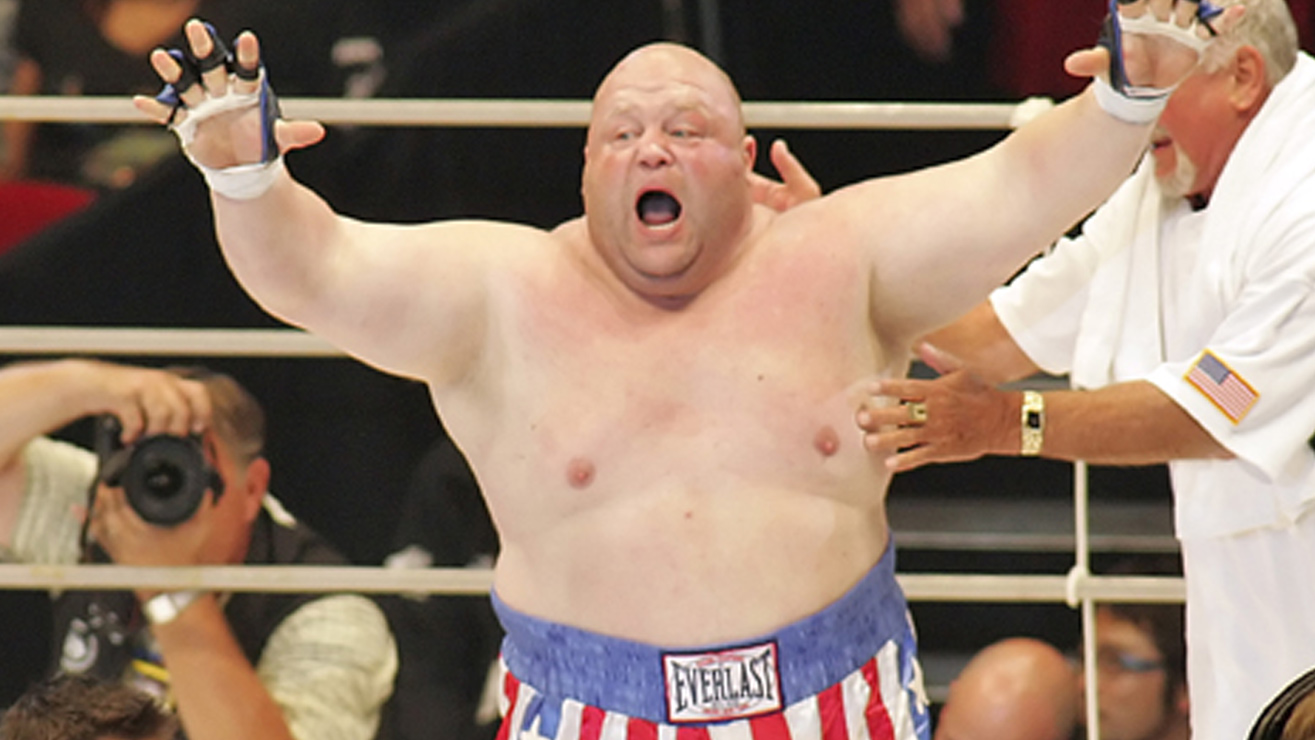 Despite he was a boxer, Esch had a score of 17-10-1 in MMA, with impressive 10 submission victories. He was defeated by Mariusz Pudzianowski from this list. He competed in PRIDE and other smaller promotions. In kickboxing, he had a score of 3-4, with two head kick losses. As a boxer, Esch had an impressive score of 77-10-4.
Butterbean has extremely quick punches for such a massive man. In the list of top 10 most massive MMA fighters, Esch is the man with fastest punches. However, his movement is weak, and he doesn't know to protect kicks well. Butterbean ended his MMA career after a defeat to Sandy Bowman in 2011.
1. Emmanuel Yarbrough
Emmanuel Yarbrough is the largest man who has ever entered the Octagon and had a score of 1-2. He is 6 foot 8 inches tall and he weighed 600 lbs when he competed at UFC 3 versus Keith Hackney. Yarbrough literally pushed Hackney through the door of the cage, but when the fight was restarted, Hackney knocked him down and finished via TKO, earning the nickname "The Giant Killer" after this victory.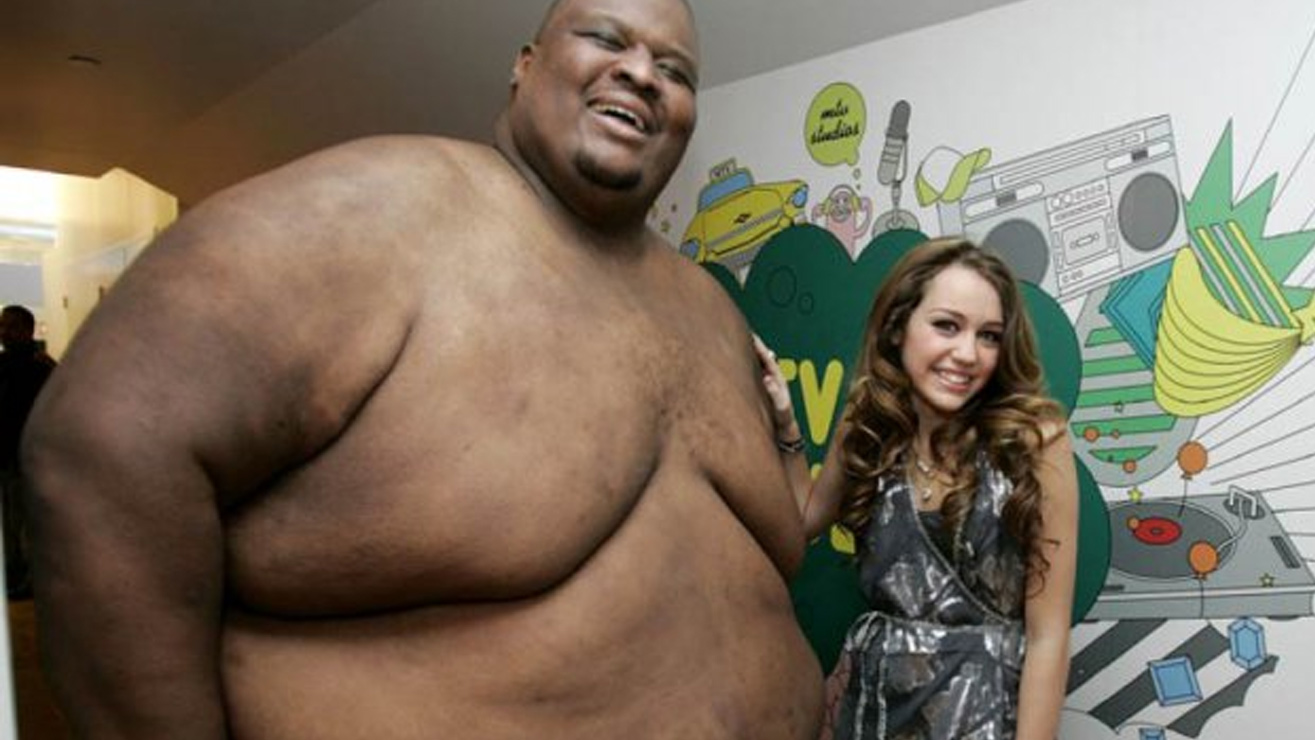 Yarbrough had a black belt in Judo, and he was an American sumo wrestler with a very successful career outside of the USA. During some period of his life, Yarbrough weighed 882 lbs, setting up the Guinness world record as the healthiest living athlete at that time.
Emmanuel Yarbrough defeated Japanese wrestler Tatsuo Nakano via smoother, by relocating his stomach on Nakano's head. In his last fight at Pride 3, Yarbrough was defeated by Daiju Takase, despite Takase weighed only 170 lbs. Takase successfully escaped his back and punched Yarbrough out until he submitted.
Yarbrough is known as the prisoner of his own body, a huge fan of a poor diet and fried foods. His unhealthy lifestyle led to his death due to heart failure on December 21, 2015. He is definitively the largest one on the list of top 10 massive MMA fighters in MMA history.