Women's MMA was developed as a great cage event for talent-packed fighters. However, there are many UFC female fighters who became stars in completely different things than fighting. Their beauty is one of them. Here is our list of top 10 female MMA hottest fighters.
Michelle "The Karate Hottie" Waterson
Her nickname "The Karate Hottie" tells you everything. She is a superb striker with the score of 14-6 in MMA. Michelle currently competes in Strawweight division.
Michelle competed in Karate, and she was a professional kickboxer before joining MMA. She is also known for the roles in popular television shows "Bully Beatdown" and "American Ninja Warrior". Michelle Waterson has earned a place in a few spots due to her attractive look too.
UFC has definitively done a great deal signing Michelle Waterson. She was placed on free FOX and FS1 events, and she was in the promo spot on UFC 218 pay-per-view.
Her biggest advantages during the fight are her superb kicks and excellent footwork. Despite she holds a bit strange guard, she can hit punch or kick her opponent in the split of a second.
Juli Firso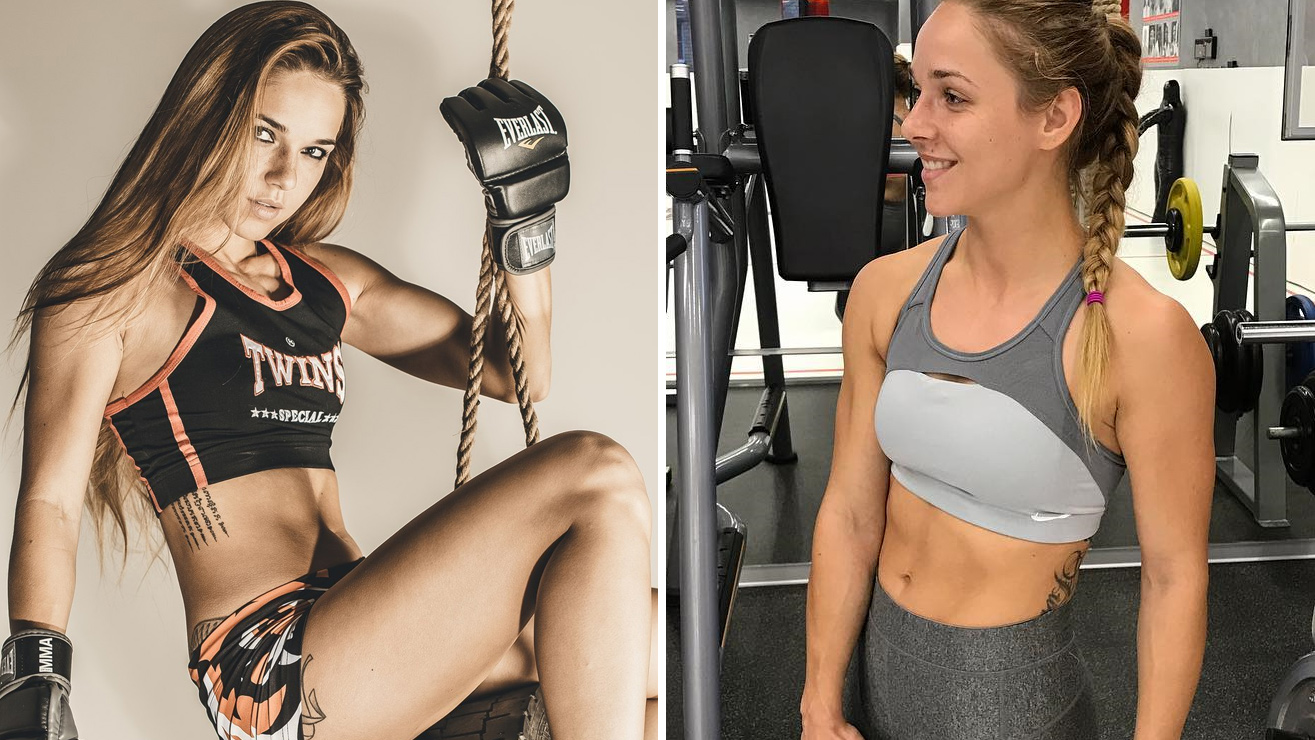 Despite this Russian competitor is only 21 years old, she seriously turns some heads at American Top Team. Firso is currently a professional competitor in Muay Thai and kickboxing but she can easily become the next significant name in female MMA.
Firso is currently preparing for her first MMA fight, and this is how she described her experience when she was punched for the first time in FloCombat:
"I was in Thailand when someone suggested I go to thai boxing class to take pictures, but I wanted to give it a try. I immediately fell in love with the training but never thought I would actually become a fighter. I eventually accepted my first fight and it was more of a casual thing. I didn't know if I had the skills but I was game enough to try. And I got destroyed in that first fight."

"My face was destroyed in that fight," she added. "The fight took place three days after I accepted it and I had never sparred before. That result may have been enough to turn lesser people away, but character is very big with me. I knew everything would heal and it did, but proving you can get back up and come back stronger is the most important thing."
Felice Herrig
Felice Herrig is known in the Strawweight division, and she has a score of 14-6 until now. She started to compete as a professional kickboxer, earning the score of 23-5 before entering the octagon. Felice is currently on a hot streak with four victories in a row.
Herrig competed at The Ultimate Fighter 20 finale, where the first UFC Female Strawweight champion was crowned. Since this event, Felice has won many hearts all around the world, with a good reason – fighting definitively looks sexy when she enters the ring!
Anastasia Yankova
Anastasia Yankova is a Russian kickboxer who turned mixed martial arts. Yankova currently fights in Bellator MMA Flyweight division. Anastasia had three fights in Bellator and earned three victories. Despite he has a perfect score of 5-0, she is still below the radar. One thing is very interesting – she is a striker by nature but she earned three submission victories!
Anastasia Yankova was a professional kickboxer with the score of 9-2 before she turned MMA. She knows to fight and fighting looks great while you watch her doing it.
Yankova is currently sponsored by Nike. She appears in Nike ads in her native Russia. Anastasia hasn't made big career yet but you can follow this future superstar climbing the ladder at Bellator. Who knows, UFC might sign her very soon.
Heather Hardy
Heather Hardy earned the attention on the weigh-in for Bellator NYC event in 2017. Despite this was her second fight, her beauty definitively set her apart from the rest of the competitors. She became very popular among her MMA fans.
Despite Heather Hardy entered the world of MMA as a professional boxer with the score of 20-0, she was heavily beaten at Bellator, and her face was covered in blood. However, Heather fought like a lion, which drew more MMA fans to her side. She won the last fight versus Ana Julaton at Bellator 194. Heather has great striking skills and she might get a chance in the UFC soon.
Aleksandra Albu
Aleksandra Albu has a 3-0 in MMA and she is not a superstar yet. But two of her victories were in the UFC opened up her path. Moldova-born Russian defeated Izabela Badure via guillotine choke at UFC Fight Night 64, and she defeated Kailin Curran at UFC 214 via unanimous decision.
Aleksandra Albu is a European beauty, easy on the eyes both inside and outside of the octagon. Aleksandra can easily become a superstar with a promotional push and few more victories.
Rachael Ostovich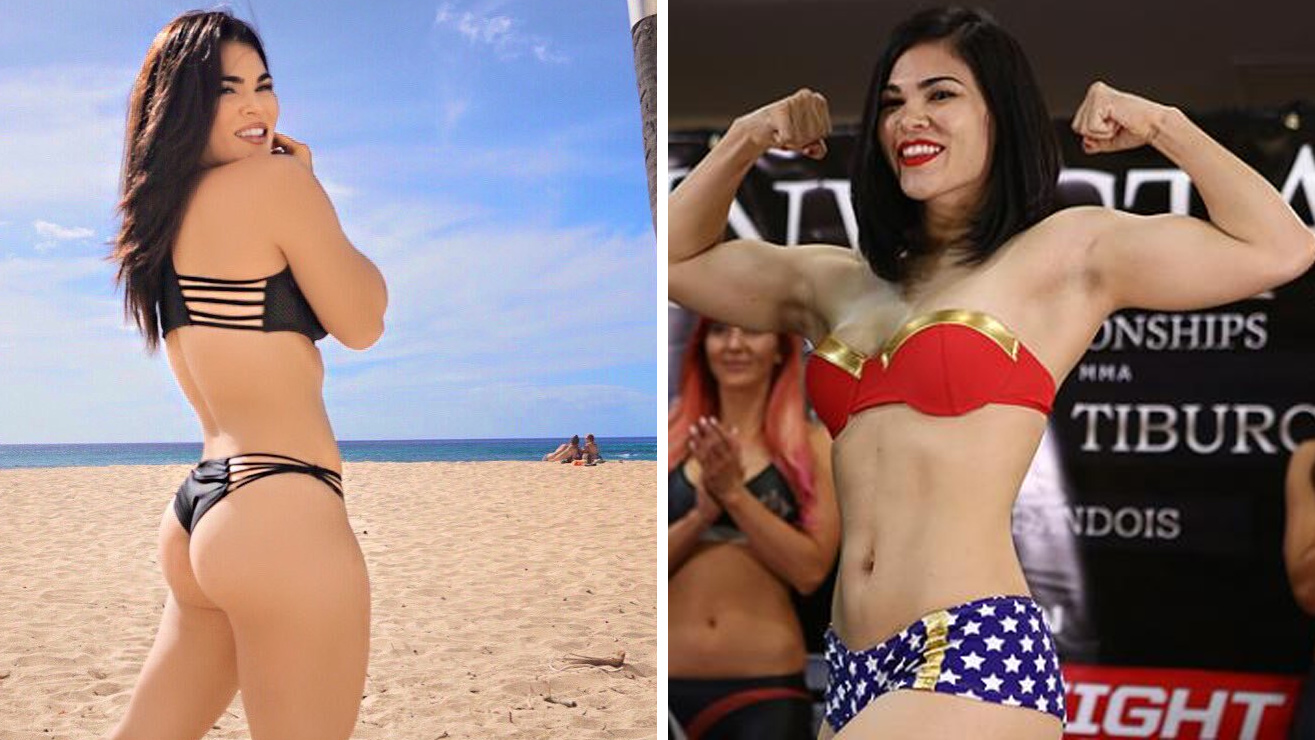 Rachael Ostovich is a beautiful girl who knows how to fight. A flyweight competitor from Hawaii entered the UFC with a score of 3-3. However, she defeated Karin Gevorgyan at The Ultimate Fighter 26 Finale via armbar after only 1:40 in the first round.
Rachael Ostovich wears a Wonder Woman outfit during the weigh-ins. This gesture has definitively given her many sympathies among UFC fans. Rachel is still under the radar but she is only 26 years old, and she has time to build a world-class UFC career.
Pearl Gonzalez
Pearl Gonzalez is an outstanding fighter who definitively knows how to submit her opponents. Unfortunately, she wasn't that successful in the world of UFC, where she earned two losses.
Pearl Gonzalez is the most known for her controversy related to breast implants. She was pulled from the UFC 210 fight against Cynthia Calvillo by NYSAC since the official rule doesn't allow the fighters who have implants to fight. However, after reviewing the case, she was allowed to fight. Pearl Gonzalez currently has a score of 6-3.
Paige VanZant
Paige VanZant has always been a part of beauty lists. This blue-eyed blonde has a successful modeling career alongside UFC. She is a great fighter who fights until the last bell, and that makes her more impressive.
Paige VanZant was chosen for the "Dancing With The Stars" spot on mainstream media due to her look. Paige has proven how big warrior in the cage she is when she fought three rounds versus Jessica Rose-Clark at UFC Fight Night 124 with a broken arm. She knows to win in a very attractive way – just remember her double kick to the head against Bec Rawlings at the beginning of the second round.
She currently has a 7-4 record and she will be out of the action for some period of time. However, Paige claims she will be knocking people out soon.
Mackenzie Dern
Mackenzie Dern is an expert BJJ practitioner and very beautiful women. She has a score of 6-0 in the MMA. Mackenzie had her UFC debut at UFC 222 and defeated Ashley Yoder via split decision after three difficult rounds.
Before she started submitting her opponents in the octagon, Mackenzie Dern was a gold medalist at BJJ competitions all around the globe. She is pretty much known in media, and if she continues to win, she can easily become the queen of the Strawweight division.
A very hot girl who can choke someone out is a great way for UFC to attract more fans. So make sure to follow Mackenzie's career, she is a rising star and there are small chances she won't climb to the top. She will face Amanda Cooper at UFC 224.