Ken Shamrock is a former three-time UFC Superweight champion, a former two-time King of Pancrase champion, a former WMMAA Heavyweight champion, Pride Grand Prix 2000 winner, and a former UFC Light Heavyweight division runner-up. He is also a UFC Hall Of Famer.
Athlete Statistic
Full Name: Kenneth Wayne Kilpatrick
Born Name
Nickname
Age & DOB
Kenneth Wayne Kilpatrick
The World's Most Dangerous Man
Ken Shamrock is currently 59 years old according to his date of birth February 11, 1964.
Fight Stats
Height
Weight
28 Wins // 17 Losses // 2 Draws
6 ft 1 in or 185 cm
210 lbs (95 kg)
Reach
Fighting Style
Association
72.5 inches (184 cm)
Shootfighting, Kickboxing, Wrestling, Boxing, Muay Thai
Bellator MMA
Nationality
Net Worth
Born Place
American
$1.5 Million
Warner Robins, Georgia, United States
Profile
Ken Shamrock has changed his fighting style a lot during his MMA career. He started as a pure wrestler with tremendous throws, excellent ground game, and great power and speed. Despite he was one of the smallest competitors he was able to carry a lot heavier opponents with his brutal reaction time, sweeps, and various submissions. He fought ten times in the UFC main event of the evening!
His best throw is a belly-to-belly suplex, while his most effective submissions are rear-naked choke and arm triangle choke. He is known as one of the fighters with the most spectacular repertoire of leg and arm locks, and probably the first fighter who was using heel hook in such an effective way.
After his return from WWE, Ken Shamrock has shown significant changes in his fighting style, throwing more strikes and slowly abandoning his grappling pedigree due to severe knee injuries. His strongest stand-up strikes are right knee and right cross. The World's Most Dangerous Man has also built his reputation as a cardio machine.
Ken Shamrock – Record
Ken Shamrock was a UFC Superweight champion three times in a row. During the time when there were no weight divisions or rounds, it was considered an amazing success, especially for a man who weighed less than 100 kg.
He holds one more record – the longest UFC Championship fight and the longest UFC fight ever. His showdown versus Royce Gracie at UFC 5 lasted for 36 minutes!
Road To The Top
Ken Shamrock had his MMA debut versus Masakatsu Funaki at Pancrase: Yes, We Are Hybrid Wrestlers 1, and he won the fight via arm-triangle choke. He joined the UFC with the score of 3-0. During his career, Shamrock was switching many times between Pancrase, Pride, Bellator, and other associations.
Ken Shamrock – From UFC To Pancrase And Pride
Ken defeated some Pancrase legends like Bas Rutten (2 times), Masakatsu Funaki (2 times) and Minoru Suzuki. His most notable Pride victim is Alexander Otsuka, whom he defeated at Pride Grand Prix 2000 Finals on May 1, 2000.
He had his UFC debut at UFC 1 on November 12, 1993, versus Patrick Smith, whom he defeated via heel hook after only 44 seconds!
Ken Shamrock Vs Royce Gracie 1
Two rivals faced for the first time at UFC 1 on November 12, 1993, in the semi-final of the tournament. Ken successfully defended Gracie's takedown attempt and secured the dominant position at the beginning of the match. Unfortunately for him, Royce Gracie set himself free and mounted his back, winning the fight via rear-naked choke.
Ken Shamrock competed in the meantime in few Pancrase events, where he defeated notable names like Bas Rutten and Ryushi Yanagisawa.
Shamrock appeared again at UFC 3 on September 9, 1994, where he defeated Christophe Leininger via submission (punches). In the semi-final of the same tournament on the same day, he defeated Felix Mitchell via rear-naked choke, but he was injured and had to withdraw from the finals.
In the meantime, Shamrock became Pancrase: King Of Pancrase Openweight champion, defeating Manabu Yamada in the final, and defended the title by defeating Bas Rutten for the second time!
Ken Shamrock Vs Royce Gracie 2
Two rivals faced for the second time at the main event of UFC 5 on April 7, 1995, in a title fight. UFC changed the rule before the fight, setting 30-minutes time limit for the fight. It upset Shamrock who was preparing for months to keep Gracie on the mat for two hours or more. There was one more sudden rule change – if the fighters are inactive on the ground, the referee stands them up.
They fought for 30 minutes plus 6 minutes overtime before the fight was stopped and declared as a draw, and Royce Gracie maintained the title. UFC matchmaker Art Davie believed Ken Shamrock was the winner.
Ken Shamrock – UFC Champion
Ken Shamrock fought versus Dan Severn at the main event of UFC 6 on July 14, 1995. Despite the huge weight difference, Shamrock surprised Severn, catching him in the guillotine choke, winning the fight, and earning the title.
In one of the most dynamic fights ever, The World's Most Dangerous Man faced Sambo fighter Oleg Taktarov at the main event of UFC 7 on September 8, 1995. The fight lasted 33 minutes, and it was declared as a draw due to the lack of judges. Shamrock maintained the title thanks to headbutts, which were allowed at that time.
Shamrock had an easy job versus Kimo Leopoldo at the main event of UFC 8 on February 16, 1996, whom he defeated via kneebar.
Ken Shamrock – UFC Title Loss
Shamrock fought Dan Severn for the second time at the main event of UFC 9, on May 17, 1996. UFC changed the rules one more time, preventing headbutts and open fist strikes to the face. Shamrock had already got torn meniscus, cracked ribs, and a broken nose from the training sessions. Rule change didn't go well for him since his two main weapons were taken away, and Dan Severn won the fight via split decision.
Ken Shamrock then defeated Brian Johnston at UFC 11.5 on December 7, 1996, via forearm choke.
Ken Shamrock – WWE
Ken Shamrock appeared in WWE for the first time in February 1997. He was soon involved in the rivalry between Steve "Stone Cold" Austin and Bret "Hit Man" Hart. He was fighting some notable names like Dwayne "The Rock" Johnson, Undertaker, Kane, and Triple H. As a great wrestler, he became known for the ankle lock and belly-to-belly suplex finishing moves.
The most controversial match was the one against The Rock at Intercontinental Championship Match: Royal Rumble 1998 when Ken Shamrock won the fight, but the referee disqualified him due to an illegal item he had in his shorts. Angry Shamrock threw the referee to the ground and executed a submission on his leg.
Ken Shamrock – Other Promotions
In the meantime, Shamrock became the champion of Pride by defeating Alexander Otsuka via KO. He was also defeated to Kazuyuki Fujita and Don Frye. He also won WMMAA Heavyweight title via Kimura victory over Sam Adkins.
Ken Shamrock – Second UFC Run
The World's Most Dangerous Man and Tito Ortiz quickly revived their rivalry upon Shamrock's return. Their confrontation started at UFC 18 in on January 8, 1999, when Tito mimicked shooting at Ken Shamrock and put on a shirt in the middle of the octagon, which had the signature "I just fucked your ass".
Ken Shamrock Vs Tito Ortiz 1
Ken fought Tito Ortiz at the main event of UFC 40 on November 22, 2002, in a Light Heavyweight title fight. A lot of trash-talking happened before the fight, and Tito Ortiz won via corner stoppage at the end of the third round.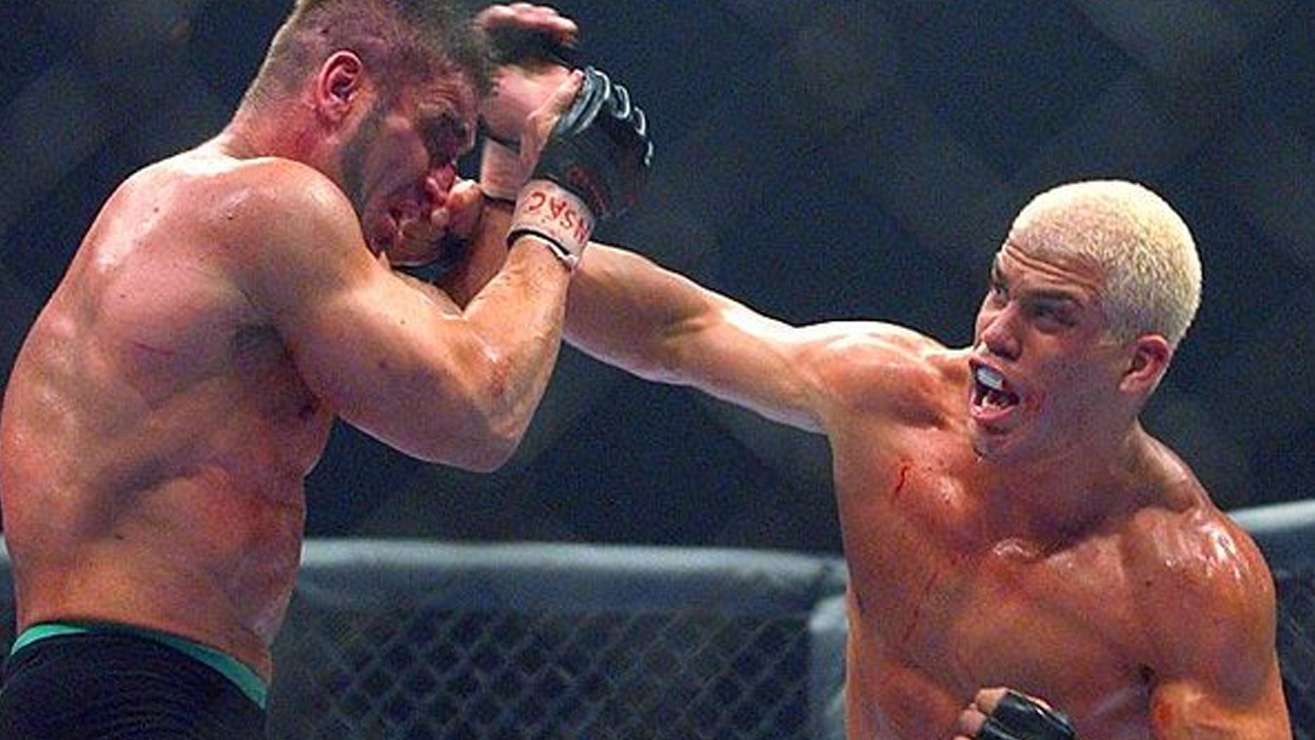 In the main event of UFC 48 on June 19, 2004, Ken Shamrock knocked Kimo Leopoldo out via tremendous right knee to the head in the first round.
Rich Franklin defeated Shamrock at the main event of The Ultimate Fighter 1 Finale on April 9, 2005, via TKO.
Ken Shamrock Vs Tito Ortiz 2 And 3
Their second match was at the main event of UFC 61, on July 8, 2006. Tito Ortiz won the first fight via TKO after a stunning barrage of elbows on the ground! He needed only 1:18 in the first round to finish the fight.
Ken Shamrock and Tito Ortiz fought for the third time at the main event of UFC: Ortiz vs. Shamrock 3: The Final Chapter, on October 10, 2006. Ortiz won again via first-round KO, winning Knockout Of The Night award. This was Ken's third loss to Ortiz!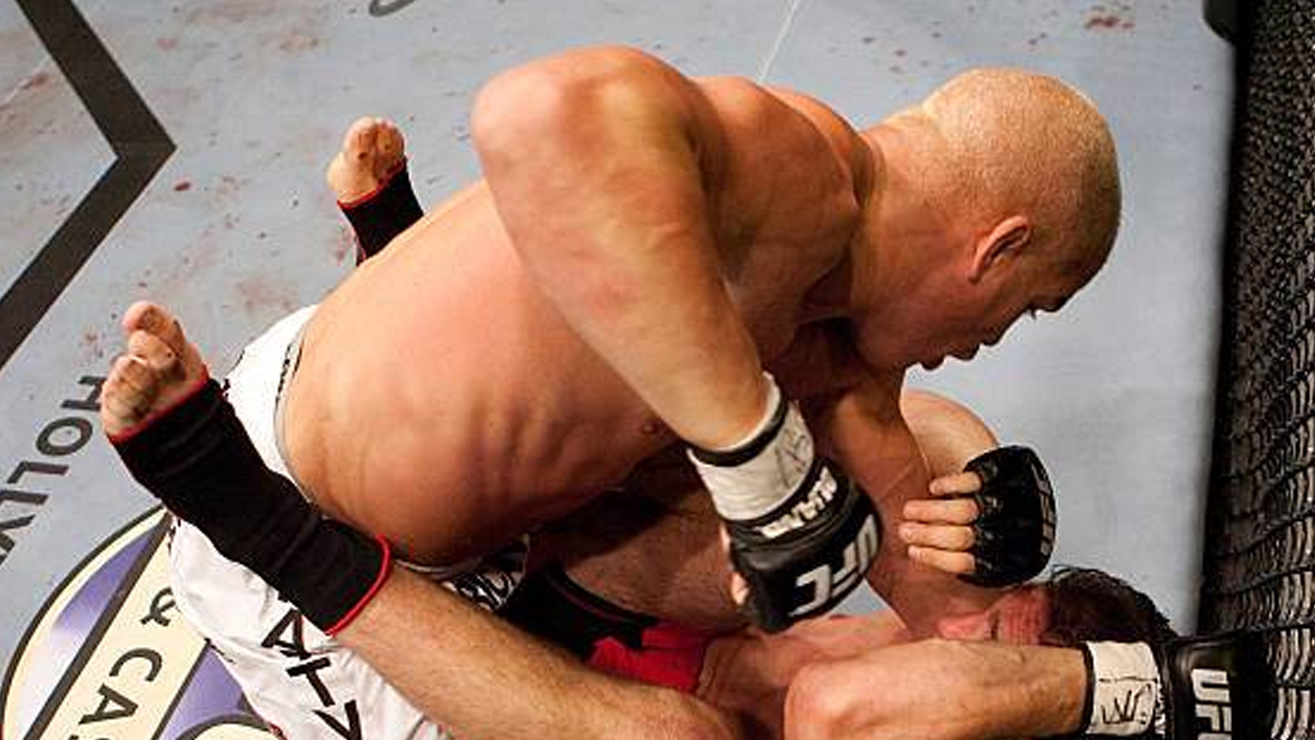 Ken Shamrock – Bellator MMA
He fought two great names – Kimbo Slice and Royce Gracie.
Ken Shamrock Vs Kimbo Slice
The World's Most Dangerous Man fought Kimbo Slice at Catchweight division at Bellator 138, on June 19, 2015, in Catchweight (232 lbs) division. Shamrock took him down early on and nearly secured a rear-naked choke, but Kimbo wriggled free from the submission attempt, got back to his feet and won the fight via first-round TKO.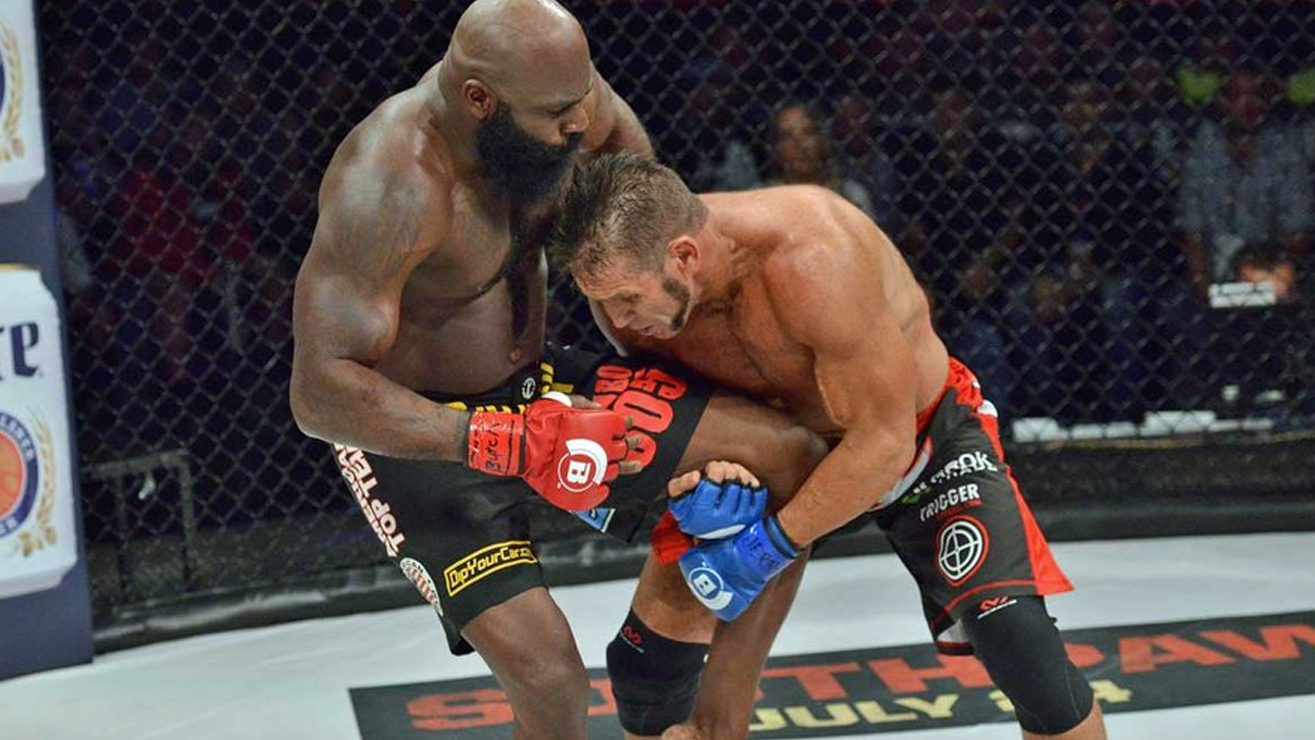 Ken Shamrock Vs Royce Gracie 3
Two rivals fought again after 21 years, at Bellator 149, on February 19, 2016. This time, Royce Gracie delivered a brutal right knee to Shamrock's head and rocked him hard. After a barrage of punches on the ground, Gracie won via first-round TKO.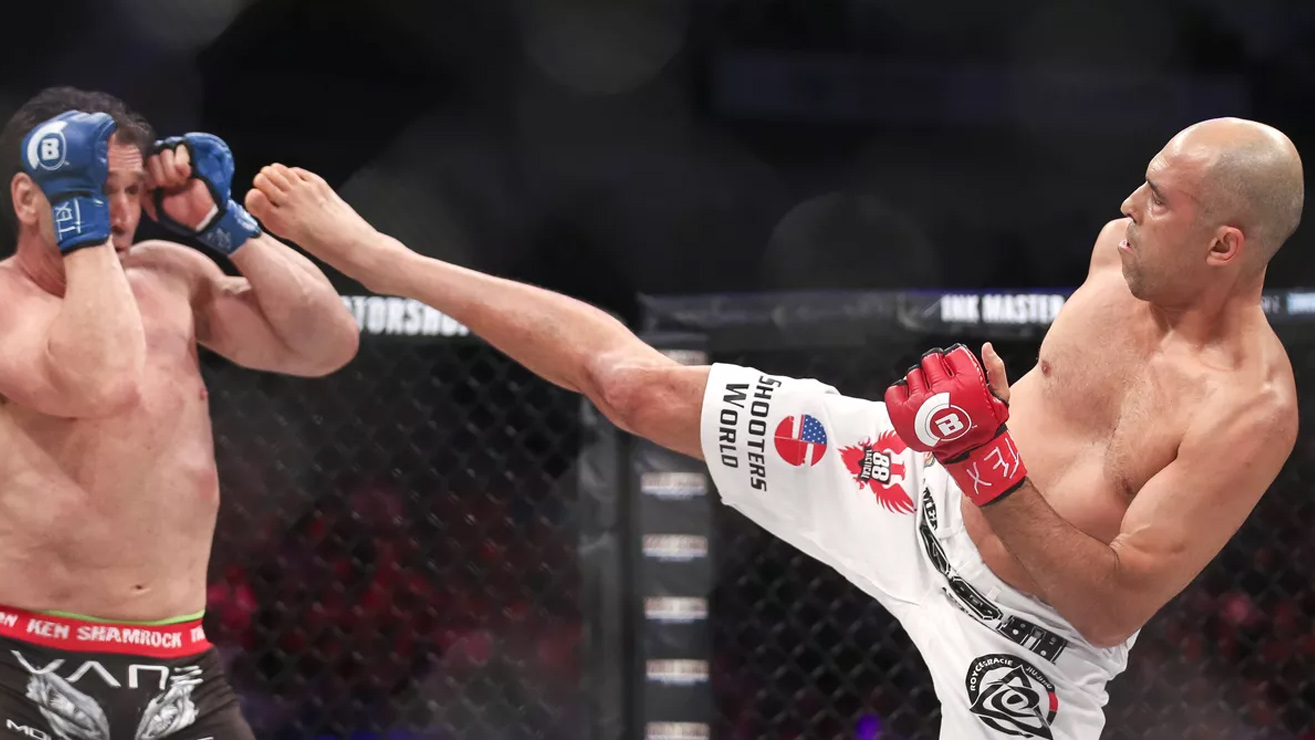 Personal Life
Ken Shamrock has a brother, Frank Shamrock, who is also an MMA fighter. They have a very strange relationship, and they have never been close. His adoptive father, Bob Shamrock, died in 2010 due to diabetes issues.
Ken Shamrock was married twice. His first wife was Tina Ramirez but the couple split in 2002. They have four children. He married Tonya Shamrock in 2005, and now he is a stepfather to her three children.
Ken Shamrock – Social Media Profiles