Following the loss of his welterweight title, Tyron Woodley is calling for a rematch against new champ, Kamaru Usman. Woodley said in his UFC 235 post fight interview "I'm just looking to rematch and run it back, man," citing his extended reign as champion as evidence to back up his statement.
Unfortunately, for a lot of reasons, the likelihood of this being able to happen for him seems rather slim.
The hard part of the situation Woodley finds himself in at the moment, is that there is already an immediate contender in line, in the form of Colby Covington. Covington is a polarizing figure to say the least, and considering his UFC 235 antics, it was uncertain whether or not the former Interim Champion would still get the next title shot. However, Dana White confirmed as much after the event, which admittedly doesn't mean much, but that isn't the only thing standing in Tyron's way.
Throughout Tyron's title reign, it has been made quite clear that Dana White is not the biggest fan of the former champ.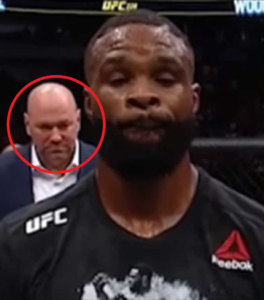 Tyron has a tendency to be a little challenging to work with, claiming cases of racism, and has looked for money fights instead of fighting contenders. Combine this with a pair of back to back fights that were severely underwhelming, and now you have a UFC President slandering you to the media, and more or less waiting for you to be dethroned.
So will Tyron end up getting another crack at gold? We will have to wait and see. However, my guess is that it will be a long time, and a hell of a win streak, before we see Tyron Woodley fighting for a belt again.