2019 Mr. Olympia Results And Prize Money For All Divisions
The 2019 Mr. Olympia has wrapped up, as bodybuilders from around the world have taken the stage to show their incredible physiques. These are the results for each division in the competition.
The 2019 Mr. Olympia took place this weekend, in Las Vegas, Nevada. Fans gathered to enjoy the festivities, and watch the elite athletes compete. As the event wraps up, here are the results of the competition.
Men's Divisions
Men's Open
The Men's Open division at this year's Olympia was shaken up in the lead-up, as the previous year's champion was not going to be competing. However, this resulted in the rest of the competitors working even harder to bring their best performances to the stage. When it was all said and done, Brandon Curry was crowned this year's Olympia.
1. Brandon Curry, $400,000
2. William Bonac, $150,000
3. Hadi Choopan, $100,000
4. Dexter Jackson, $45,000
5. Roelly Winklaar, $40,000
---
212 Olympia
The 212 Olympia was a battle of the smaller bodybuilders, but they still delivered. It was a close battle between Kamal Elgargni and Derek Lunsford, but Kamal would edge out the victory. Additionally, following winning the 212 Olympia championship, Kamal Elgargni announced his retirement. This is the rest of the results:
1. Kamal Elgargni – $50,000
2. Derek Lunsford – $20,000
3. Shaun Clarida – $10,000
4. John Jewett – $6,000
5. Ahmad Ashkanani – $4,000
6. Sami Al Haddad
7. Eduardo Correa Da Silva
8. Hidetada Yamagishi
9. Aaron Polites
10. Angel Calderon Frias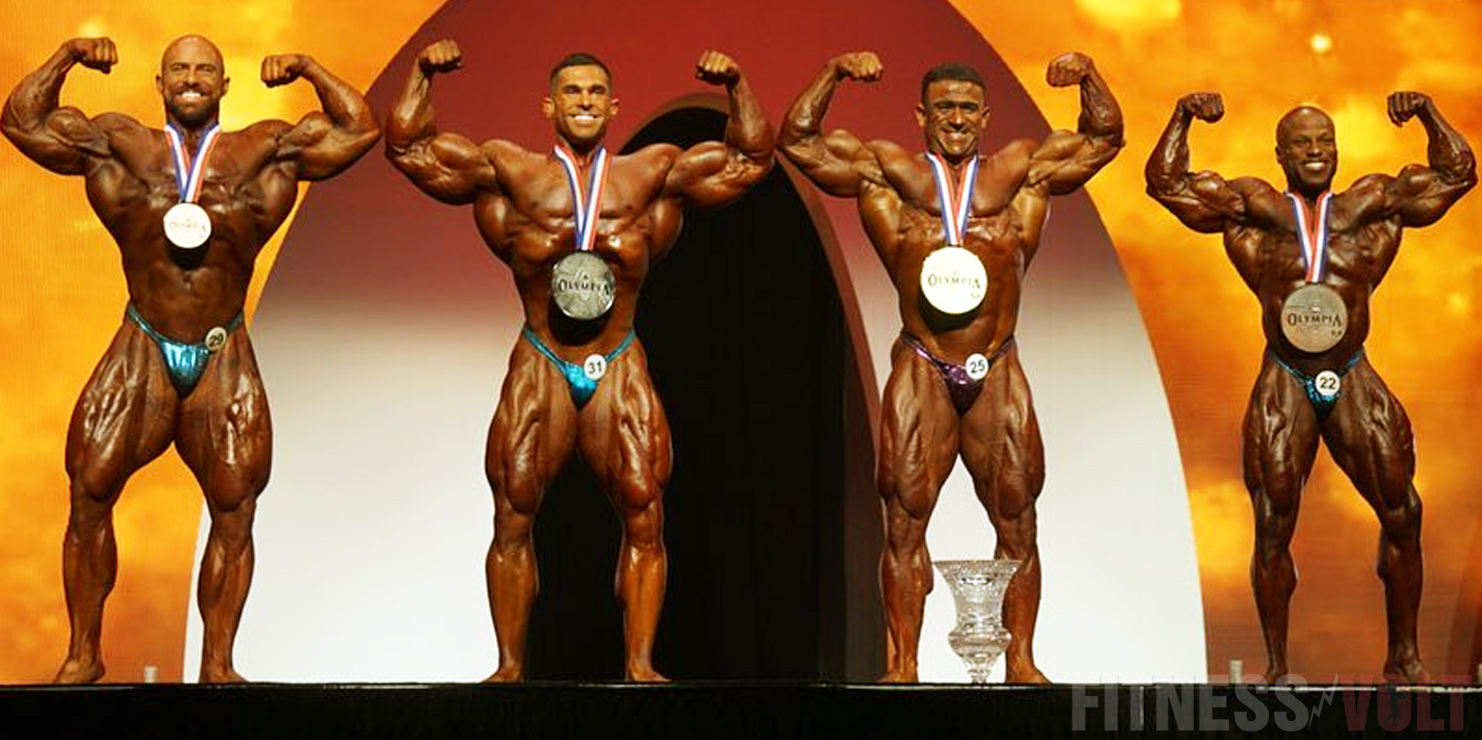 ---
Classic Physique Olympia
The Classic Physique Olympia pits some of the highest-level athletes against each other. Two-time champ Breon Ansley came into the event hoping to make it a third victory. Nevertheless, he had to face some of his toughest competition to date, in order to do so. At the end of it all, Chris Bumstead walked away as the victor.
1. Chris Bumstead, $30,000
2. Breon Ansley, $10,000
3. George Peterson, $5,000
4. Keone Pearson, $3000
5. Chen Kang, $2000
---
Men's Physique
Brandon Hendrickson came into the 2019 Mr. Olympia as the man to beat. He had won last year's competition, so all the other athletes were gunning for his throne. However, when the dust settled, it was Raymont Edmunds who pull the win.
1. Raymont Edmunds, $35,000
2. Andre Ferguson, $12,000
3. Kyron Holden, $8000
4. Brandon Hendrickson, $4000
5. Ryan Terry, $2000
---
Women's Divisions
Fitness
The Women's Fitness division saw a substantial boost in this year's payout. Subsequently, the competitors were all gunning for that top spot. However, in the end, Whitney Jones earned her second consecutive win.
1. Whitney Jones – $50,000
2. Missy Truscott – $20,000
3. Ryall Graber – $12,000
4. Jaclyn Baker – $7,000
5. Tiffany Chandler – $6,000
6. Jeanine Taddeo
7. Marta Aguiar
8. Darrian Borello
9. Jennifer Worth
10. Sara Kovach
---
Women's Physique
The Women's Physique also saw a boost in prize money, for the number one spot. Again, Shanique Grant won the event, marking her second victory in a row. Check out the full results of the division below.
1. Shanique Grant – $40,000
2. Sarah Villegas – $18,000
3. Natalia Abraham Coelho – $12,000
4. Daniely Castilho – $6,000
5. Laura Pintado Chinchilla – $4,000
6. Valentina Mishina
7. Jennifer Taylor
8. Margita Zamolova
9. Tohefafa Ameko
10. Sheikha Nguyen
---
Figure Olympia
Figure Olympia showcases some of the best female bodybuilders in the world. As a result, the competition was extremely close between the top few. However, to little surprise, defending champ Cydney Gillon won again, for the third time in a row.
1. Cydney Gillon, $50,000
2. Latorya Watts, $20,000
3. Nadia Wyatt, $12,000
4. Jessica Reyes Padilla, $7000
5. Carly Starling-Horrell, $ 6000
6. Ivana Ivusic
7. Tarryn Garlington
8. Ashley Soto
9. Martina Yabekova
10. Sandra Grajales
---
Bikini
The Bikini division is about appearance over size and strength. This event saw Angelica Texiera looking to win for the third time in a row. However, she was forced to take on some tough competition. When the judges read the final scores, it was Elisa Pecini who won the title.
1. Elisa Pecini, $50,000
2. Janet Layug, $20,000
3. Angelica Teixeira, $12,000
4. Lauralie Chapados, $7,000
5. Jennifer Dorie, $6,000