Written by MiddleEasy @MiddleEasy
It takes a sort of bravery that I will never possess to roll around on the ground with a guy donned only in light blue Speedo while being fully aware that his elbow's bursa sac is infected and will have to be drained soon. That's the type of bravery that only a man who has stepped into the cage against Hector Lombard with an arrow shaved into his chest possesses. It's the type of grit only TWAS can handle, and handle Dennis Hallman he did.
According to Hallman's Twitter, he felt something wrong with his bursa sac on Thursday or Friday. It could have been due to the excessive friction between the triceps tendon and olecranon but it's hard to tell. He probably felt the inflammation around his elbow starting, so he informed the TWAS camp that there was an infection possibility. Subtendinous olecranon bursitis is much less common, but what do I know? TWAS was reportedly fine with the news and agreed to continue with the bout, unfazed by the possibility of an engorged elbow.
Here is a picture of Dennis Hallman's sac malfunction in a weekend full of them: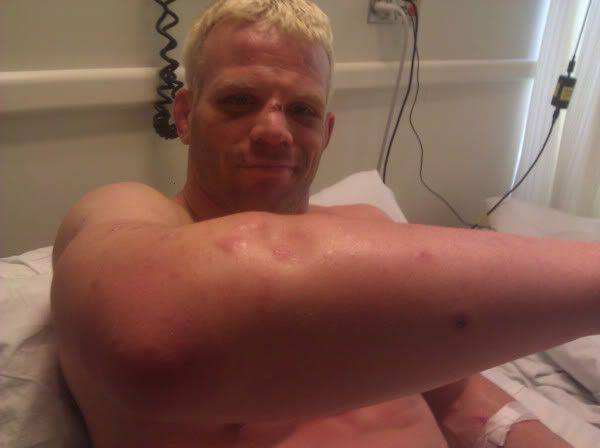 [source]